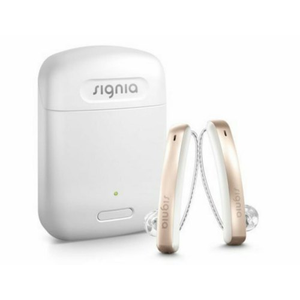 The Signia Styletto X, formerly known as the Connect 3nx hearing aid, is the third best technology within the Styletto family. The Styletto 3X technology level offers Mid-level performance by FitHearing standards.
Styletto 3X hearing aids are the first ever of slim Receiver-in-canal (slim RIC) form factor. The design boasts a decrease in size to the traditional RIC that sits comfortably behind the user's ear. These hearing aids are made-for-smartphones so you can stream calls, music, and other audio directly through your hearing aids.
Styletto 3X hearing aids are rechargeable, so simply place them on the charger at night and they will be ready to go with you all day long.