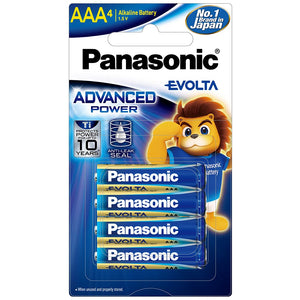 Panasonic AAA Alkaline Batteries last longer than ordinary zinc-carbon batteries.

Panasonic Alkaline AAA battery is equipped with Anti-Leak protection. This protects devices from damage due to battery rupture and leakage.

Panasonic Alkaline batteries are designed to protect power for up to 10 years when unused and stored properly.

Alkaline AAA batteries have a triple tough coating made of nickel-and-iron alloy.

Panasonic Alkaline batteries are ideal for TV remote, alarm clocks, clocks, flashlight, battery powered toys, beard trimmers & shavers, digital cameras, video flash, photo flash, wireless keyboard, wireless mouse and other everyday devices.
Panasonic EVOLTA is the ultimate premium Alkaline battery
Panasonic EVOLTA batteries are 20 times longer lasting than standard Zinc Carbon batteries. They are especially designed to offer uninterrupted and long-lasting power for everyday devices.
it's reliable and trustworthy.
Panasonic's flagship battery is available in AA and AAA sizes and pack configurations. Its durability makes it the perfect choice when it comes to choosing the best companion for all your everyday devices Choose Panasonic EVOLTA and enjoy long-lasting and uninterrupted power.
No.1 Brand in Japan & Preferred Globally
Panasonic EVOLTA is the No.1 brand of batteries in Japan**. At Panasonic, we believe in creating quality products that offer value to our customers. We place emphasis on research and development, production, quality control and environmental responsibility. Our products are designed and manufactured with the latest technology. They are tested rigorously for performance, reliability and safety before they are shipped to customers around the world.
**Based on market research conducted by INTAGE SRI on the sales amount
for batteries in the Japan market, from Jan. 2014 to Dec 2020.
Store Batteries Safely for Up to 10 years
The new Panasonic EVOLTA batteries keep power locked in even after years in storage.
Its unique high-quality chemistry including added "titanium" *** prevents degradation while
its Anti-Leak Seal prevents leakage to ensure long life and stability to your devices. ****
***AA/AAA-type only
****When unused and properly stored. Not applicable to 9 V batteries.
Anti Leak Protection *****
Panasonic EVOLTA is designed using the latest technology, superior materials and a unique Anti-leak protection. The anti-leak protection helps suppress gas when the battery is stored for a longer period or when it is nearing the end of its life-cycle or usability. The anti-leak protection minimizes chances of battery rupture and thus damage to the device.
***** AA-size batteries only
Special Tough Terminal Coating
Panasonic EVOLTA has a special tough terminal coating. Also known as triple tough coating, it is a nickel-iron alloy sandwich. It has an outer layer made of nickel, a middle layer made of nickel-iron alloy and an inner layer made of iron. This sandwich reduces contact resistance, prevents iron oxidation and safeguards the battery's outer layer, thus improving the battery's overall performance.
Panasonic Alkaline AAA Batteries power your devices longer than ordinary zinc-carbon batteries. When not in use and stored properly, Panasonic Alkaline batteries can protect power up to 10 years. They also come equipped with special anti-leak protection that makes them safe for your devices and gadgets. Panasonic Energy India offers a wide range of batteries - Panasonic Zinc Carbon battery, Panasonic Alkaline battery, Panasonic Coin - Lithium and Alkaline battery, Panasonic eneloop battery and eneloop pro battery, and Panasonic eneloop chargers to cater to different products and usage.