High Quality
SII's mercury-free silver oxide batteries are manufactured in a high-tech clean room environment in a newly constructed factory. This facility was specifically designed for the manufacturing of ultra precision electronic devices and incorporates all new equipment. Within the clean room environment SII has eliminated contamination allowing us to ensure consistent quality.
Type

SR920SW

Ref.




No.

371

Electrical (atRoomTemp.) Nominal Voltage (V)

1.55

Dimensions Diameter (mm)

9.5

Dimensions Height (mm)

2.05

Weight (g)

0.6

C.C.V. (TYP.)* +24ºC(V

1.45

 

C.C.V. (TYP.)* -10ºC(V)

1.20
Advanced Technology
Until recently, a small amount of mercury was included in the chemical compound of the silver oxide battery to suppress the possible generation of hydrogen gas should the zinc-based negative electrode corrode. If this hydrogen gas is generated, leakage resistance and storage stability of the battery will deteriorate and a possibility of swelling may occur.
SII developed and incorporated the following two technologies in our no mercury added silver oxide batteries:
Use of high-corrosion resistance zinc alloy
Addition of a high performance inhibitor in the electrolyte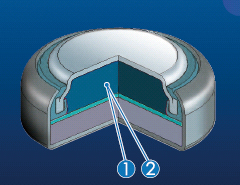 No Mercury & No Lead Added
According to the European Union (EU) battery directive, the marketing of batteries containing more than 0.0005% of mercury by weight is prohibited due to mercury's hazardous effects on human health and our environment. Coin cell batteries including silver oxide batteries, that have been exempt from this prohibition, will also be prohibited from October, 2015. SII had already achieved this "reducing environmental burden challenge" with our SEIZAIKEN mercury free/Pb free silver oxide battery. SII provides safety and security from production all the way to final consumption.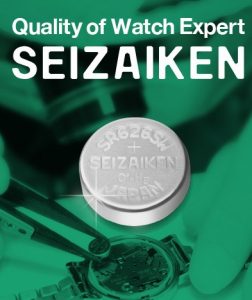 Features
Ecology
The introduction and adoption of new technologies made it possible to avoid using mercury and lead, which are environmentally harmful.
Excellent leakage resistance
Other than eliminating the need for mercury in the compound, these batteries are manufactured to have excellent leakage resistance attained by our newly developed crimping structure. This is made possible by our new high-performance manufacturing machinery and process.
High reliability
Production in our high precision clean room environment thoroughly prevents contamination – resulting in the most consistent, highest reliability battery.
APPLICATIONS
Watches
Clocks
Cameras
Calculators
Remote controllers
Card radios
Digital clinical thermometers
Electronic games
Measurement equipments
Health appliances